Ready to start your tech journey?
Our courses is specifically designed for those with little to no tech experience and will give you the knowledge and skills you need to succeed in this in-demand field.
How to start your tech journey?
Take our 1-day Orientation Course!
Online - N2kRegular - N5kVIP - N20k
Discover your perfect tech career path among front-end developer, SQL database administrator, data analyst, scrum master, backend developer, full-stack developer, DevOps, and more at our event!
View Our Full Courses
Students enrolled in our courses
Hours of 20 interactive physical sessions/lessons learning one on one
%
Full-stack course covering JavaScript, HTML & CSS, SQL, PHP, Frameworks, Mobile, etc.
Gain valuable knowledge & hands-on experience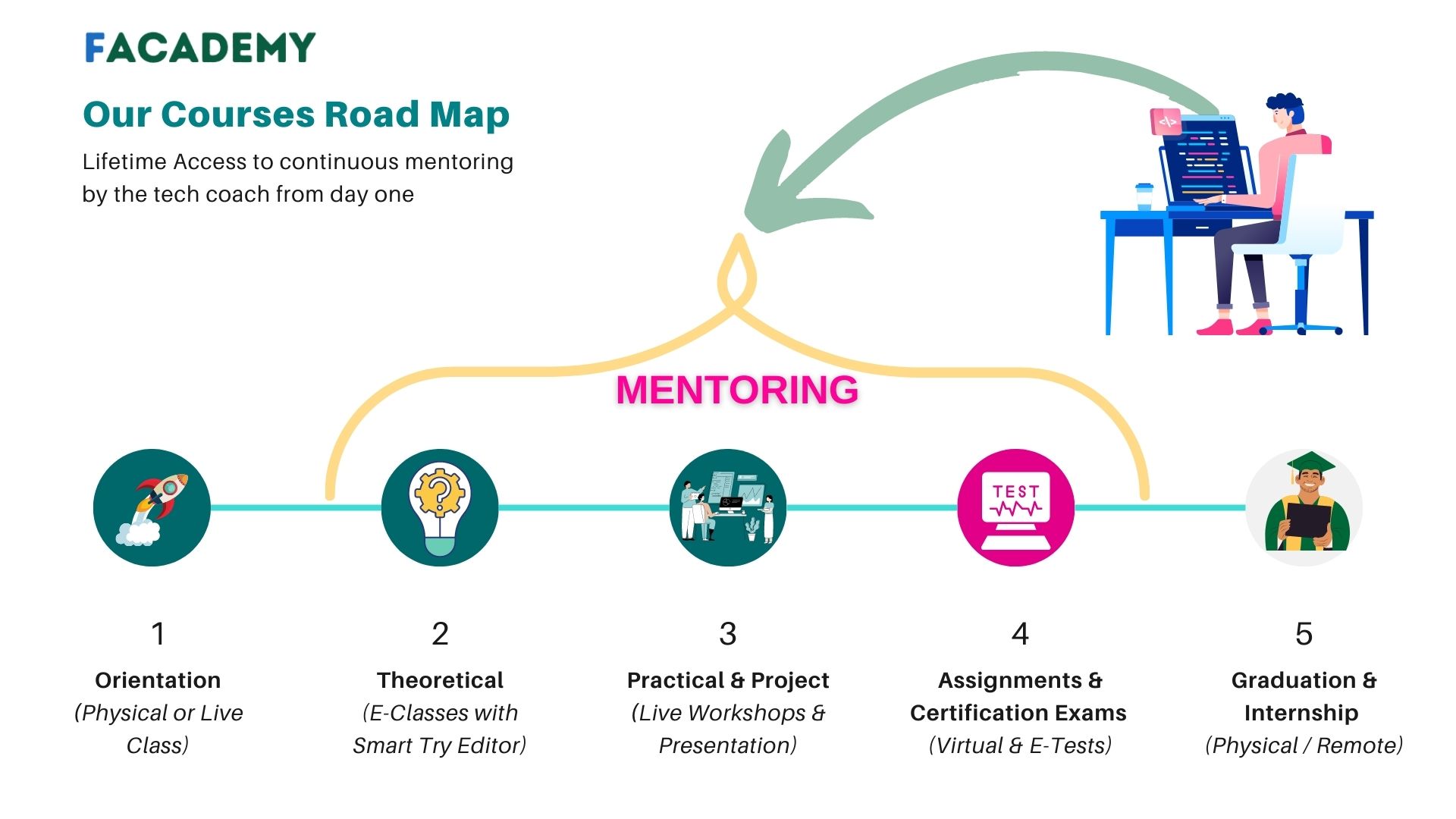 Career Support
In addition to the technical training, you'll also receive career support to help you land your dream job as a full stack web developer.
Dream Job
Our team of instructors and career advisors will provide you with resume and portfolio reviews, job search assistance, and mock interviews to prepare you for success.

One-on-One
Personalized attention and guidance have been invaluable in helping students achieve their goals and become better programmers.
Our Tech Orientaion Course Package
We're excited to offer three types of attendees
₦

2

k
Full Access Online
E - Assessment
In person attendance (If Available)
Qualified for the scholarship
Interactive Sessions
One-on-one Session
Internship program
Scholarship Offers
Members-only Forum
Certificate
Don't take our words for it
Listen to a FACADEMY Student
I appreciate the small class size, as it allowed for more individualized attention and the opportunity to ask questions and get feedback. Overall, I feel like I gained a solid foundation in programming and I am excited to continue learning and building upon what I learned in the course - Olugbade
A Very Unique Style Of Learning
Mixed with fun activities and competitive events, you can never get bored
Register for the Orientation Course
FACADEMY is the training arm of FeniSAAS Technologies Limited a company that provides software as a service to Large, Medium, and small-scale enterprises. We focus on building business smart solutions & and now we are teaching our students how to do same.
Ready to meet the head coach?
Femi Adefaka is the MD/CEO of FeniSAAS Technologies LTD, with Over 14 years of cumulative experience developing projects on Web, Mobile, and Desktop Platforms. Former Chief Technology Officer, BisCom TDigits Limited. Mobile (Android and IOS) Applications Developer, GMCPN, Certified Member of the Computer Professionals Registration Council of Nigeria(CPN). Founder of 925worksuite, EasyLMS, MSMFunnels, etc. He only mentors 5 qualified candidates in every 6months!
Many are called but few are chosen, he hand picks the few students he mentors every year!

Email
Want Quick Answers?
Here are some frequently asked questions.